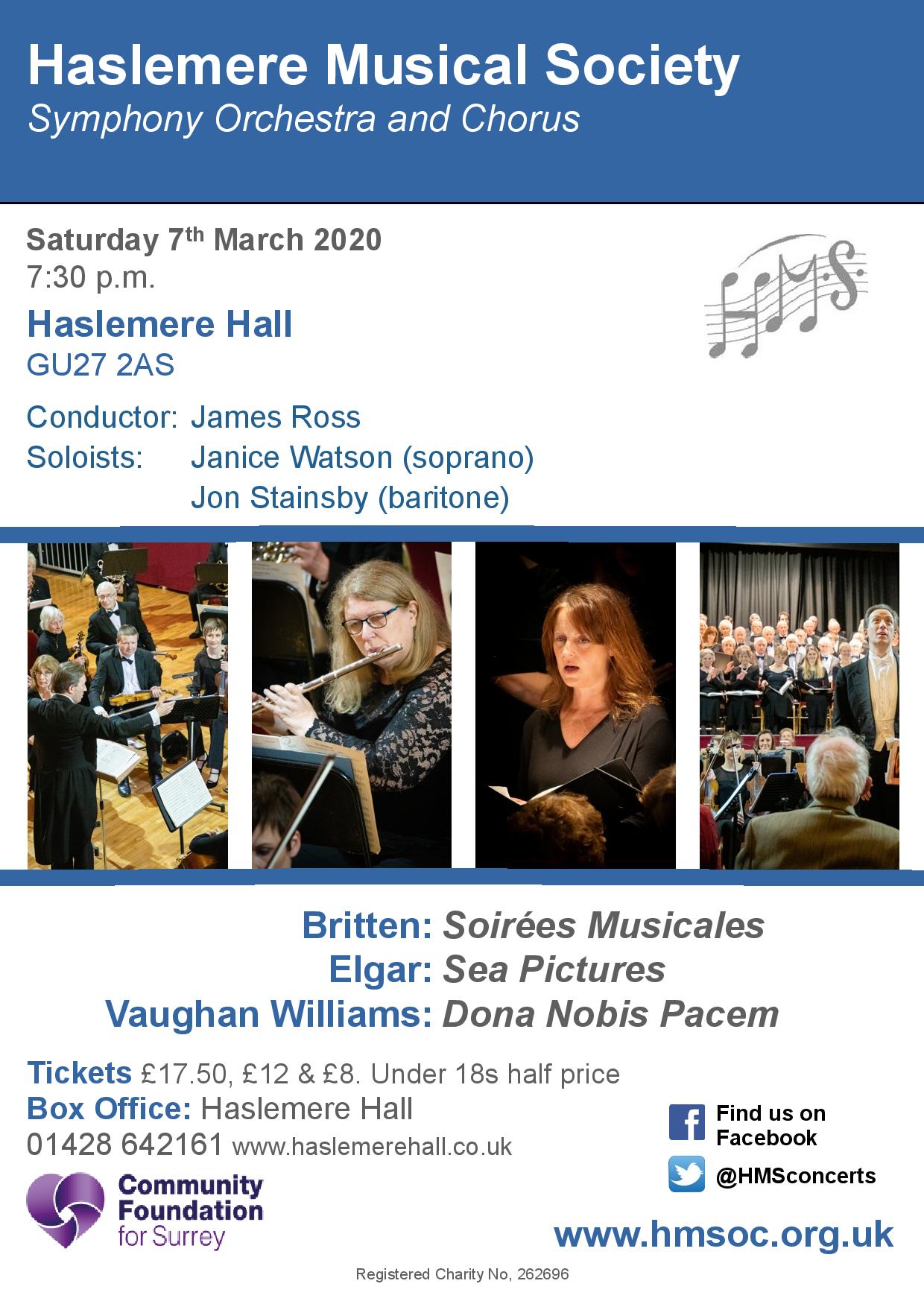 Review
This was a night of exceptional music making under the inspiring baton of Dr James Ross, meeting the challenge of very different pieces with enthusiasm and musical skill. There was something for everyone from four giants of British music. The first half started exuberantly with Soirées musicales, Benjamin Britten's rearrangement of Rossini. The orchestra played the five contrasting pieces spiritedly, with a lightness of touch, while being honest to the precise musical writing.
A quite different work in mood and colour followed; Frederick Delius' Walk to the Paradise Garden. The orchestra met the very different demands of sustained lyricism and generally slower tempi, yet sustaining the expressive musical form.
It is always a challenge to bring new insights to well-known pieces, but this is clearly what accomplished soprano Janice Watson did to Elgar's Sea Pictures, demonstrating the wide range of her vocal skill and understanding.
The second half consisted of a splendid performance of Vaughan Williams' Dona Nobis Pacem. Both the choir and orchestra acquitted themselves excellently in this complex and emotionally demanding work. This is Vaughan Williams response to his first-hand experience of the horrors the First World War and the looming second: very clearly an anti-war cantata. The work might be relatively short, but packs a mighty punch. The poems of Walt Whitman may be an acquired taste, (though used previously in Vaughan Williams' Towards the Unknown Region), combined with the words of comfort from the Christian scriptures and the Mass. Though interspersed with the salutary words of John Bright MP – a re-casting of the comforting words of the Hebrew Passover, and those of the prophet Jeremiah.
Throughout, the two soloists, soprano, Janice Watson and baritone, Jon Stainsby, brought a depth of understanding and emotional power to their performance. From the opening Agnus Dei to the last Dona nobis pacem, controlled yet with an intensity fading to nothing, Janice's singing matched the words perfectly. Jon Stainsby also showed his full range of musical skills, from the dramatic to the intense anguish of his words in Reconciliation: "for my enemy is dead, a man divine as myself is dead."
Mention must be made of Cole Bendall as Chorus Master, and Clive Osgood, Rehearsal Pianist, who have melded the voices into a harmonious whole; articulate, with clarity of diction and a clear understanding of the sentiment of the music and words. Mention should also be made of the team who put together the programme with its comprehensive notes.
One has to remind oneself that the performers were predominantly amateur, who gave fine performances of very different and complex works. It is to be sincerely hoped that Haslemere Musical Society will continue to prosper and perform to such a high standard.
Robert Mitchell